Lima Senior High School
Class Of 1964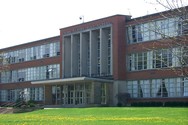 45th Reunion - 7/09
Scroll down the page to see all of the photo galleries
July 2009
Well, the 45th Class Reunion is over and we have some wonderful memories to hold on to.
About 35 classmates met at the "Rally in the Square" on Friday night. It was a very casual atmosphere and those that attended had a great time.
The new Lima Senior High tour was Saturday morning and was very informative. In spite of the rain, approximately 45 classmates went over to the stadium for a group photo. The Mayor, Superintendent of LCS, TV, newspaper, etc. were there to "kick-off" the stadium renovation fund raiser to rebuild the east side stands.
A stop at the eastside Kewpee for lunch gave us all a chance to chat with some classmates that we haven't seen for a while.
The Reunion festivities Saturday evening gave everyone a chance to connect or re-connect with classmates they haven't seen in quite a while. Several classmates came back for their first reunion since graduation and it was nice to have them attend. Thirteen classmates came from out of state and we appreciate them making the trip. We appreciate every one of you that made the effort to come to our 45th.
Five years from now is our 50th. The committee is planning a "Week-end to Remember" and we hope you all will stay in touch with us with change of addresses so we don't miss you in our mailings and /or e-mails. We know that these are hard economic times, but you have five years to plan. The reunion will most likely be the second week-end in July 2014.
Hope to see you at the 50th.
Dixie (Roberts) Cotner