Lima Senior High School
Class Of 1964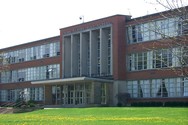 In Memory
James Hardesty
James F. Hardesty, 66, died at 7:47 p.m. April 9, 2012, at Lima Memorial Health System.

He was born Jan. 8, 1946, in Lima to Emma "Punk" Kinkle, who preceded him in death. In 1982, he married Deanna Gibson, who survives in Lima.

Mr. Hardesty worked at Lombardo's for several years and had worked at the Allen County Museum. He enjoyed spending time with family and friends at Louie's and The Firehouse. Everyone who knew him will miss his kindness and humor.

Survivors also include a daughter, Emma (Camerino Gonzalez) Hardesty, of Lima; three sons, Benjamin Hardesty, of Lima, Glen Welch, of Columbus, and James Lewis, of Fort Wayne, Ind.; several stepchildren; six grandchildren, Mya, Jacob, Trenton, Dylan Michael, Daniel; several stepgrandchildren; and a brother Jeff (Charity) Kinkle, of Florida.

He was preceded in death by an aunt, Naomi Gieger.

Friends may call from 5 to 7 p.m. Friday at Chamberlain-Huckeriede Funeral Home.

Memorial contributions may be made to Lima Allen Community Action Agency, 540 S. Central Ave., Lima, OH 45804.

Condolences may be expressed at chamberlainhuckeriede.com.