Lima Senior High School
Class Of 1964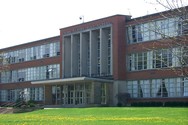 In Memory
Fred Huysman
Fred Huysman, 67, died at 7:30 p.m. March 28, 2013, at Shawnee Manor, Lima.
He was born Dec. 10, 1945, to Earl and Beatrice Huysman, who preceded him in death.
Mr. Huysman worked at Teledyne-Ohio Steel and retired from International Brake.
Survivors include two brothers, Ralph Huysman and James Huysman, both of Lima; four sisters, Betty Yant, of Bluffton, and Carol Kohl, Joyce (Don) Kohl and Phyllis Cloyd, all of Lima; a sister-in-law, Teresa Huysman, of Lima; several nieces and nephews; and a close friend, Mark Thiesing, of Lima.
He was preceded in death by three brothers, Clarence G., Eugene A. and Robert H. Huysman; a sister, Sandra K. Jay; two sisters-in-law, Marie Huysman and Maryann Huysman; and three nephews, Michael Huysman, Gregory Kohl and Scott Huysman.
Private graveside services will be held at the convenience of the family. Burial will be in Gethsemani Cemetery, Lima.
Contributions may be made to the donor's choice.