Lima Senior High School
Class Of 1964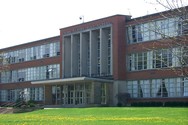 In Memory
Jerry McDonald
Jerry McDonald, 67, died a 6:49 p.m. Sept. 16, 2013, at Lima Memorial Health System.
He was born Sept. 14, 1946, in Lima to Harry J. and Betty Latham McDonald, who preceded him in death. On June 18, 1979, he married Terri Wells, who survives in Lima.
Mr. McDonald was a member of Fraternal Order of Eagles Aerie 370 and Lima Sabres Shooting Association, both in Lima, and Loyal Order of Moose Lodge 1533, Indian Lake. He retired from Ford Motor Co. Lima Engine Plant after 37 years, and was currently working at Reineke Ford on Greely Chapel Road with his wife. He was an avid fan of the Cleveland Browns and Cincinnati Reds. He was a 1964 graduate of Lima Senior High School, where he played shortstop on the state championship baseball team. He enjoyed camping, fishing, gardening and snorkeling in the Florida Keys and Mexico. He was a loving husband and father who will be deeply missed.
Survivors also include two sons, Jerry L. (Kim Hilleary) McDonald II, of Lima, and Shawn McDonald, of Columbus; two grandchildren, Amanda Rodeheffer and Kurtis McDonald; and a great-granddaughter, Samara Rodeheffer.
Services will begin at 1 p.m. Friday at Chiles-Laman Funeral & Cremation Services, Shawnee Chapel. The Rev. Wanda Werking will officiate. Burial will be in Memorial Park Cemetery.
Friends may call from 6 to 8 p.m. today and one hour prior to services Friday at the funeral home.
Memorial contributions may be made to the family.
Condolences may be expressed at chiles-lamanfh.com.