Lima Senior High School
Class Of 1964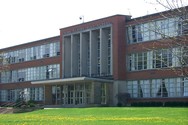 In Memory
Mary Anne Neil (Zimmerman)
Mary Anne Zimmerman, 65, died at 8:15 a.m. Feb. 15, 2012, at Roselawn Manor Nursing Home, Spencerville, after a long battle with cancer, with her husband by her side.

She was born Oct. 25, 1946, in Lima to Fred R. "Dick" and Mary C. Scheufler Neil, who preceded her in death. On Aug. 15, 1981, she married Richard A. "Dick" Zimmerman, who survives.

Mrs. Zimmerman was a 1964 graduate of Lima Senior High School. She had worked at Scot Lad Foods and P-K Lumber, both in Lima. She and her sister owned and operated Ze-Pizza, Spencerville, for six years. She retired as a teller from Huntington Bank, Spencerville, after several years. She was a member of Trinity United Methodist Church, Spencerville. She had served several years on the Spencerville Village Council and was active with the Spencerville Chamber of Commerce. She enjoyed gardening, bowling, poker, The Ohio State University Buckeyes and Tony Stewart in NASCAR.

Survivors also include two sons, Sean (Della) Chapman, of Spencerville, and Matt (Kendra) Chapman, of Lafayette; three stepsons, Doug (Denise) Zimmerman, of Spencerville, and Kevin (Cheryl) Zimmerman and Michael (Emily) Zimmerman, both of Aurora, Colo.; 13 grandchildren, Jordan and Ryan Zimmerman, both of Spencerville, Sydnie and Layne Chapman, both of Lima, Lain Patterson and Cooper Chapman, both of Spencerville, Jaden Hicks and Dylan Chapman, both of Lafayette, and Samantha and Carly Zimmerman, Lindsay and Nicole Cummings and Joshua Zimmerman, all of Aurora, Colo.; a brother, Steven (Karen) Neil, of Lima; and a sister, Nancy (Ron) Klausing, of Kalida.

Services will begin at 11 a.m. Saturday at Thomas E. Bayliff Funeral Home, Spencerville. The Rev. Jan Johnson and the Rev. John G. Medaugh will officiate. Burial will be at a later date in Spencerville Cemetery.

Friends may call from 2 to 4 and 6 to 8 p.m. today and one hour prior to services Saturday at the funeral home.

Memorial contributions may be made to Trinity Untied Methodist Church.