Lima Senior High School
Class Of 1964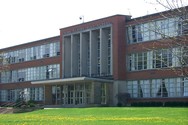 In Memory
Dean Ramga VIEW PROFILE
Dean C. Ramga, 65, died Sept. 24, 2011, at his residence in Fishers, Ind.

He was born Aug. 28, 1946, in Columbus to Wayne C. and Betty L. Born Ramga. His father survives and his mother preceded him in death. He married Victoria Ramga, who survives.

Mr. Ramga was a graduate of Bowling Green State University and the University of Dayton. He served in the U.S. Army. For the past 11 years he has been vice president of finance for the Christian Theological Seminary in Indianapolis. He also worked for United Theological Seminary of Dayton, Mead Corp. and State Farm Insurance. A fifth-generation member of the Christian Church, Disciples of Christ, he served on the General Board of the denomination and was president of the International Christian Men's Fellowship. He was a member of Geist Christian Church, where he served as an elder and choir member. An accomplished musician, he was a founding member of the Dayton-based choral group, Musica! and sang with an award-winning barbershop quartet, The Candidates. He loved his family, genealogy, Ohio State football, and he was an avid camper.

Survivors include a daughter, Andrea Leigh Ramga; a stepdaughter, Elizabeth (Tommy) Cooper; a stepson, Nathan Lee (Heather) Peters; a granddaughter, Olivia Larael Peters; and two sisters, rhe Rev. Patrice Lynn (Charles) Rosner and Deborah Sue Humphrey.

He was preceded in death by a son, Douglas Clayton Ramga.

Services will begin at 2 p.m. Wednesday at Geist Christian Church, 8550 Mud Creek Road, Indianapolis.

Friends may call from 4 to 8 p.m. Tuesday at Shirley Brothers Mortuaries, Fishers Castleton Chapel.

Memorial contributions may be made to Musica! in care of Shirley Brothers Mortuaries, 9900 N. Allisonville Road, Fishers IN 46038; Geist Christian church music fund, 8550 Mud Creek Road, Indianapolis, IN 46256; or the St. Vincent Foundation, 8402 Harcourt Road, Suite 210, Indianapolis, IN 46260.

Click here to see Dean's last Profile entry.