Lima Senior High School
Class Of 1964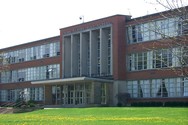 In Memory
Kenneth Mason
Deceased Classmate: Kenneth Mason
Date Of Birth:
Date Deceased:
Age at Death: 64
Cause of Death:
Classmate City: Wapakoneta
Classmate State: OH
Classmate Country: USA
Survived By: See attached

Kenneth E. "Ken" Mason, 64 Monday, 28 March 2011 Kenneth E. "Ken" Mason, 64, of Wapakoneta, died 4:48 p.m., Saturday, March 26, 2011, atTriumph Hospital, Lima. Kenneth E. "Ken" Mason, 64, of Wapakoneta, died 4:48 p.m., Saturday, March 26, 2011, atTriumph Hospital, Lima. He was born April 16, 1946, in Lima, the son of Edith M. (Glancy) and Donald J. Mason, who preceded him in death. On June 12, 1971, he married Joy Ann Scott, and she survives. He also is survived by two children, Jennifer A. Bryars, of Wapakoneta, and Aaron J. Mason, of Cleveland; four granddaughters, Alexandria Bryars, Haylee Bryars, Megan Bryars, and Audrey Mason; a sister, Linda Garling(James), Lima; a mother-in-law, Nancy Scott; a brother-in-law and sister-in-law, Ken and Mary Scott; two nephews and a niece, Ryan Garling, Jason Scott and Tory Scott. Ken retired as data processing manager from the Mercer County Auditor's Office, in Celina. He had also worked with the Burroughs Corp.- Unysis. He was a member of First United Methodist Church, Wapakoneta, where he played the organ and accompanied the children's choir. He had also substituted as organist for several area churches. A 1964 graduate of Lima Senior High School, he served in Thailand with the U. S. Air Force. He was a life member of the American Legion, Post 2510, Celina. He loved spending time with his family, especially his granddaughters. His other hobbies included model trains, music, computers, and he was an avid reader and history buff. Funeral services will be 10:30 a.m. Thursday at the First United Methodist Church, with the Rev. R.J. Davis officiating. Burial will be at Greenlawn Cemetery, Wapakoneta, where military rites will be conducted by the Wapakoneta VFW. The family will receive friends from 2to 4 and 6 to 8 p.m. Wednesday at the Bayliff & Eley Funeral Home, State Route 501, Wapakoneta, and 1-hour prior to the service Thurs.dayat the church. Memorial contributions may be directed to the First United Methodist Church or American Lung Association Condolences may be expressed at www.bayliffandeleyfh.com.